SWITCH LIFE EXTENDER
THE NEW GENERATION: AEG 2.5 & AEG 3
Get more pew pew out of your new KWA AEG 2.5/3 with the new Switch Life Extender, included on all new gen AEGs. The SLE will extend the life of your trigger contacts by almost 500% by absorbing 99.9% of the back current/power surge that cause their shuttle contacts to burn out.
Unlike other electrical aftermarket add-ons, the SLE doesn't rely on complicated circuit boards or cause erratic trigger behavior. Combined with numerous internal upgrades like the adjustable fps, the new gen of KWA AEGs is the new standard.
For reference only. Not to scale. Motor is shown upside down for illustrative purposes.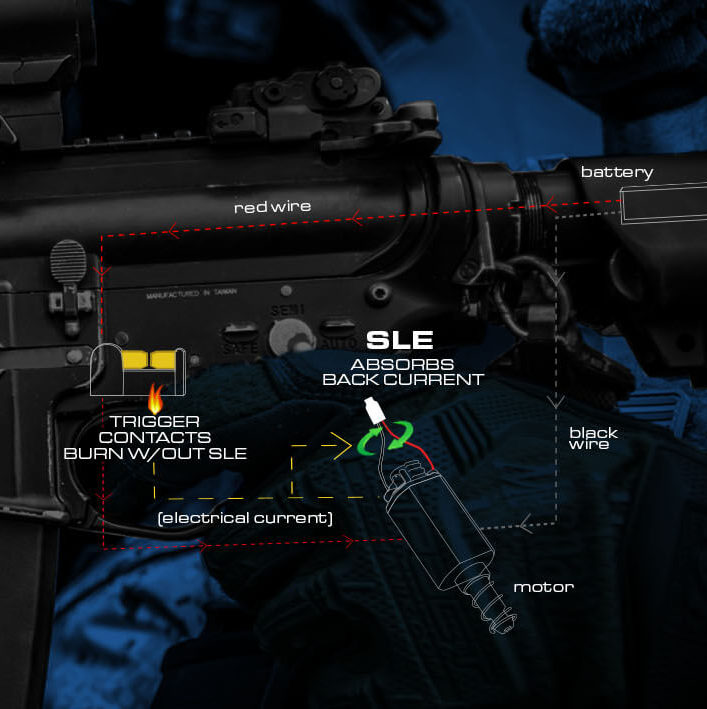 | | |
| --- | --- |
| Weight | 9.0 lbs |
| Dimensions | 41 × 10 × 4 in |
| Length (Retracted) | 32.25 inches / 819.2mm |
| Length (Extended) | 35.25 inches / 895.4 mm |
| Outer Barrel Length | 15 inches / 381 mm |
| Inner Barrel Length | 16.53 inches / 419.9 mm |
| Weight (Product) | 7.30 lbs / 3.31 kg |
| Rate of Fire | 19+ |
| Velocity | 390-410 FPS |